I began my life at Hawthorn as an Intern transitioning straight from university. Hawthorn was in its very early years. On my first day I joined a team of 15 and now with around 70 colleagues I've seen Hawthorn go through many different stages of growth over the past seven years.
What makes working at Hawthorn unique?
Despite the huge changes that the organisation has undergone, Hawthorn has maintained some of the qualities that I enjoyed when I first joined. No matter what level, from intern to CEO, everyone is encouraged to be creative and contribute their ideas and perspectives. Influencing the strategy and building relationships with clients, journalists or other stakeholders isn't reserved for the most senior team members – Hawthorn encourages everyone to develop connections and take ownership of tasks and responsibilities.
What has been your most memorable experience with Hawthorn?
I've been lucky enough to travel with clients. These obviously stand out as great memories with Hawthorn, whether it's Didcot or Sao Paolo. My first experience was as an analyst, and I travelled solo to Zambia to see a client. It was daunting but shows how younger people in the organisation are trusted and empowered to be independent and own client relationships.
Another, more recent highlight was visiting our client, Suzano, in Brazil last year. Visiting their offices, factories and farms, and spending time with the communications team and members of the executive committee, including the CEO, really helped us get under the skin of the company and better understand its people and culture. As we started working with Suzano during lockdown, separated by a global quarantine and thousands of miles, building that client relationship in person was invaluable.
Tell us about your hobbies / how do you like to spend your free time?
I love making the most of everything that makes London special. Discovering new restaurants, going to gigs, sitting in pub gardens, visiting markets and parks. When I need to clear my head, I'm doing anything active and outdoorsy whether that's running, hiking, playing netball and cycling (which came in handy during our Hawthorn team cycle from Pisa to Rome last year).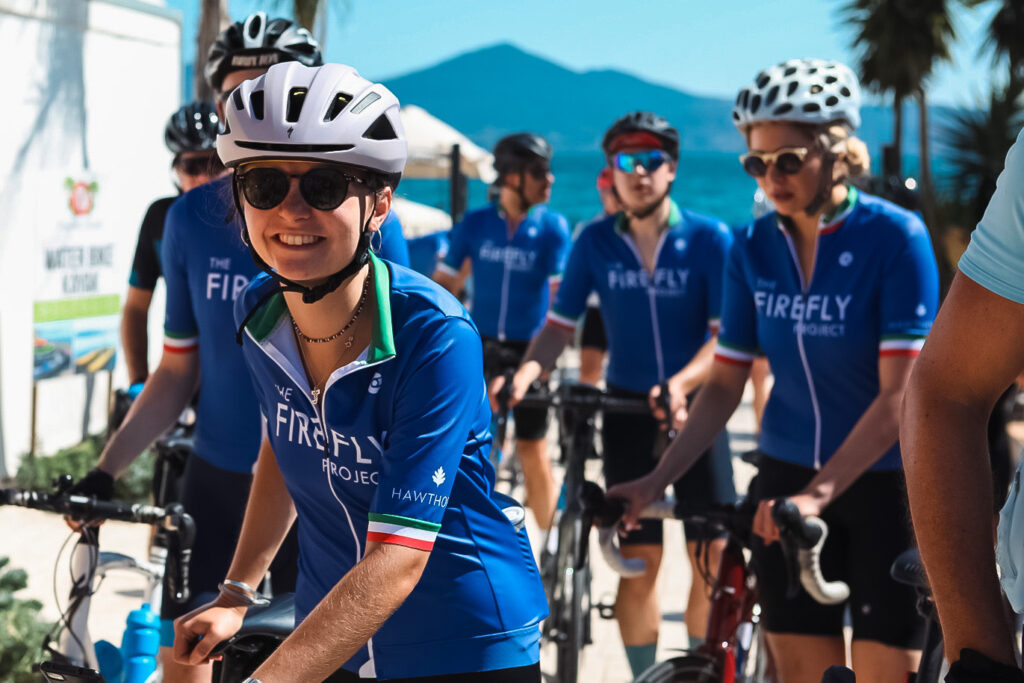 Why did you decide to become a mental health first aider in the workplace? Why is it important?
Many of us spend more time with our colleagues than our friends and family. Yet talking about our health is still often a taboo. This goes for our physical health, but especially for our mental health. If someone is physically ill it's generally easy to see what's wrong, but it isn't so easy for mental health and many people don't feel able to speak up when they are struggling.
Our industry is dynamic and fast paced and that's what attracts many to the sector, but it can also be demanding and comes with its fair share of pressure. Understanding this from first-hand experience is what inspired me to become a Mental Health First Aider and volunteer myself, as a first port of call for anyone who wants to talk about any issues however large or small.
What have you learned about yourself?
Being a mental health First Aider doesn't mean I've always found having challenging conversations easy. Like many people, I felt unsure how to approach a friend, family member or colleague who didn't seem themselves or was going through a tough time. One of the reasons I wanted to become a Mental Health First Aider was to learn how to approach topics that felt outside my comfort zone.
I now feel much more confident simply asking someone how they are, and I understand that it can be ok to probe. It's been so valuable, and I don't just use this in my official role as a Mental Health First Aider, but in everyday situations with my friends and family.