We often hear the phrase – 'your greatest asset is your people.' This is true in any company; without them, you will fail! But fast growth in businesses can all too often come at a high cost to the people on your team, and it's hard to grow organically and consistently without some things going under pressure.
In a study conducted for Hawthorn, we spoke to leading executives across high-growth businesses to understand their challenges, the opportunities that exist, and the continued need to put people first.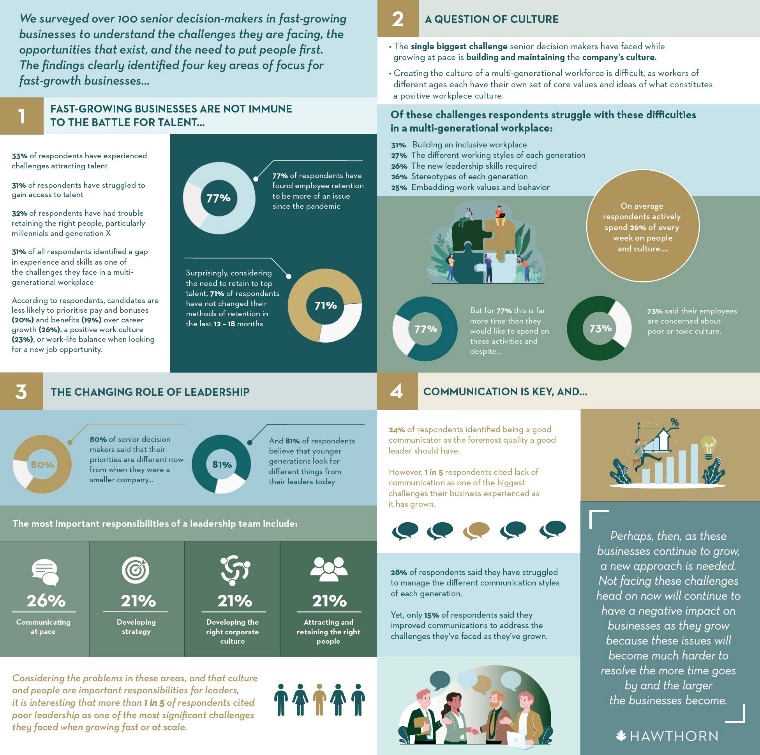 The findings identified four key areas of focus for fast-growth businesses:
Attracting and retaining talent
Building and maintaining culture
The changing face of leadership
Ensuring effective communication
These are challenges being faced by many organisations, but they are exacerbated by the pace at which businesses are growing.
Attracting and retaining talent
How you treat your people is paramount. People now expect much more from their employers, and so employers must work harder to attract and retain top talent – it's no longer just about pay and bonuses, they are looking for career growth, a positive work culture, and work-life balance.
A third of respondents said they have experienced challenges attracting talent to their fast-growing company. Over three quarters said they have found employee retention to be more of an issue since the pandemic, with almost a third saying that retaining the right people has been a significant problem for their business.
At the same time, business leaders are facing a subset of challenges created by a multi-generational workplace. Despite the reported challenges with Generation Z fueling the Great Resignation, respondents said that Millennials and Generation X were the two generations they find most difficult to retain, leaving them with skills and experience gaps in their businesses.
Despite all of this, 71% of respondents have not changed their methods of employee retention over the last 12-18 months, which is surprising considering the clear need for fast-growing businesses to retain top talent.
Businesses would do well to now focus on factors that will contribute to workers' overall experience, and ensure they have an up-to-date and relevant Employee Value Proposition that meets the needs of their current and future talent.
Building and maintaining culture
Building and maintaining culture is reported as a key challenge for fast-growth businesses. This is likely a result of leadership being more firmly focused on growing their business, coupled with the fact that once you've surpassed a certain number of employees, your culture begins to change and becomes more difficult to control. This is further exacerbated by workers of different generations bringing their expectations, core values, and ideas of what constitutes a positive workplace culture.
More surprisingly, three-quarters of respondents felt this is an area that is already taking up too much of their time, and they would like to be able to spend less time focused on it.
The changing face of leadership
The findings clearly show that people and culture are two of the main challenges faced by fast growth businesses. They also indicate that dealing with these issues are among the most important roles for leaders in the business. Therefore, it is surprising that only 15% of respondents felt that defining a purpose, vision, and goals were an important role of the leadership team in a growing business. In fact, it was last on the list!
However, when asked what the impact had been of the challenges they faced when growing fast or at scale, 23% of respondents cited poor leadership.
Leaders must work together to meet the needs of the business, building an inclusive and high-performance culture, discussing growth regularly, engaging employees on their journey, and communicating any changes.
Ensuring effective communication
As befits the current and future need for emotionally intelligent leaders, respondents identified communicating at pace as the most important aspect of all the duties of leaders in fast-growing organisations. Additionally, 24% of respondents identified being a good communicator as the foremost quality a good leader should have.
Yet, the findings indicate that this aspect of running a fast-growing business may have been overlooked. Just 15% of respondents said that they have improved communications to address the challenges they've been facing as they've grown, making this the least common response. This is despite the generational problems they are facing regarding talent attraction and retention, and the fact that 28% have struggled to manage different communication styles in a multi-generational workforce.
Conclusion
High employee turnover and poor communication has an impact on culture that cannot be understated. Indeed, according to respondents, the biggest negative impact of the challenges they are facing centres around culture. Specifically, 25% said they either found it difficult to maintain culture or prevent a toxic culture from developing. Interestingly, only 15% have improved their communications in response to this. Not only do these directly affect a business's ability to perform, but they could also severely affect its reputation.
Despite the acknowledgment that leadership plays an important role with regard to people and culture, and despite the challenges they are facing in these areas, respondents feel that they cannot afford to spend any more time addressing these issues.
An organisation's culture is embodied and maintained by its people. Take every opportunity to engage with your workforce, understand them, and capture their views on how the company is performing. Ensure you have leaders with the new skills and capabilities needed to lead and inspire your workforce because effective leadership will help you make the most of the opportunities creating sustainable growth for the future.
Amid all the excitement and potential of business growth, it can be easy to lose sight of what initially made your venture special and set you on the path to success. Recognising and understanding the potential challenges and how to overcome them is essential if your business is to continue to grow and thrive. Not doing so, will continue to have a negative impact on your business as it grows, as it will become much harder to resolve the more time goes by and the larger the business becomes.
If you would like to know more about the findings of our study or how we at Hawthorn can help you identify and address these challenges, then please contact our Head of Employee Communications & Engagement, Sarah-Jane Wakefield at s-j.wakefield@hawthornadvisors.com.