Back to people stories
Changing careers can be reinvigorating and fun by Stephen Atkinson
What made you decide to change your career? How has it felt?
For the first three decades of my career, I worked for one bank. Although I had a fantastic time there, doing many different things in multiple jobs, I always wondered if I could succeed doing something completely different elsewhere. Banking is, quite rightly, a heavily regulated industry, but I wanted something a little more creative and fast-flowing, where I could have a more immediate impact. Having really enjoyed leadership and communications-type roles, somehow, I beat a path to Hawthorn's door.
Starting afresh has been a complete re-boot – I'm challenged daily, learn from much younger colleagues with completely new skills to me, and as we build the business, I find myself getting to grips with a much more entrepreneurial approach. I also help and advise wonderful clients in a wide range of industries and have had some incredible experiences along the way, whether that be visiting the world's largest eucalyptus farm in Brazil, witnessing 3D nano printing at Nottingham University or discussing the merits of wild swimming with a renowned neurosurgeon while sitting in a freezing stream in the Cairngorms. Moving from a large multinational of over 80,000 people to a fast-growing business with less than 80 people has been the most reinvigorating thing I've done in my career.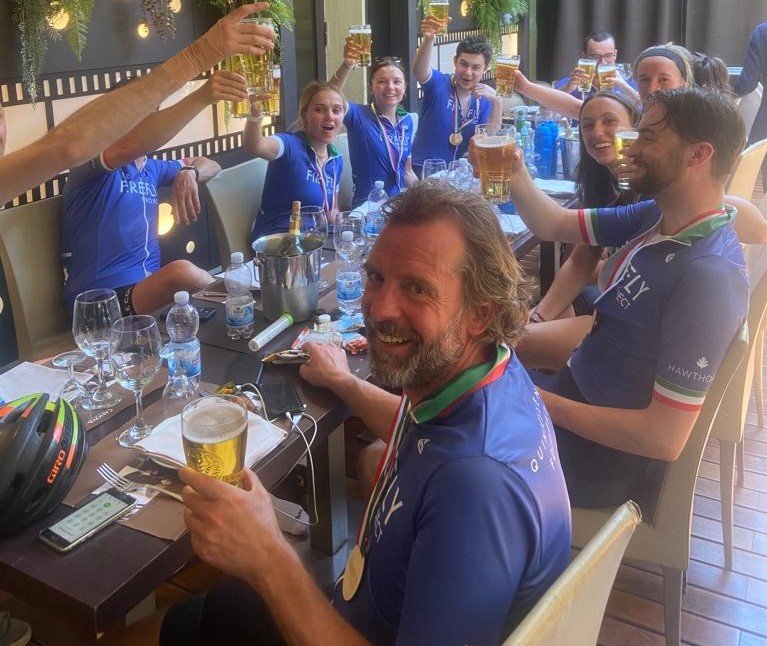 I knew I wanted to join within about ten seconds of arriving for my interview.

Steve Atkinson Partner
What drew you to Hawthorn?
I knew I wanted to join within about ten seconds of arriving for my interview. A younger member of the team teased me for wearing a suit and tie, and I liked the fact that we're not too deferential or hierarchical and that everyone can voice their opinion.
We're also extremely well connected and have a host of people with different backgrounds and experiences. If I want an insightful opinion on Scottish devolution, or someone fluent in Mandarin, or access to a leader in a particular academic or business field, chances are that we can do that. Someone described us as both book-smart and street-smart, and that's not too far from the truth.
As someone over 50, I'm now more interested in doing work that keeps me relevant and creative. Hawthorn is a young, vibrant, and outgoing place and offers plenty of opportunities to do this.
What advice would you give someone contemplating a career change?
You regret the things you don't do, not the things you do. In hindsight, I should have moved earlier and taken more of a risk. I was jaded, cynical, and faking it more than I wanted to – if this resonates, it's probably time for a change.
Carving out the time and energy to decide what to do next is never easy but talk to as many people as possible and make sure you leave each meeting with two new contacts. It was my network, not headhunters, which led me to my new career.
What career advice would you give your younger self?
It takes time to hit your stride. I started out following a traditional banking 'left brain' path of science, economics, and numbers, yet ended up spending the best parts of my career using more of the 'right side' of my brain, reading, writing, and speaking for a living. I didn't see that coming at all, and becoming a Partner in a communications consultancy certainly wasn't in my life plan! So don't stress too much in your early 20s – it doesn't matter if you don't get it right immediately after school or university. Use this time to explore, learn and understand who you really are and what you enjoy. I only really discovered I loved leading people and teams in my late 20s and early 30s. I also found my love for reading and words around then as well, having not enjoyed it at school at all.
You have more time than you think – especially as careers are going to last 50 years or more, and jobs you'll do later in your career may not even exist yet. Do as many different things as you can to gain experience, understand what motivates you and what lights your fire. Ultimately, doing what you enjoy will lead to success and fulfilment.
Back to people stories
Our team